Read Time:
3 Minute, 37 Second
Degi Masala Biryani Recipe | Restaurant Style Biryani Original Recipe – Zoobia Farooq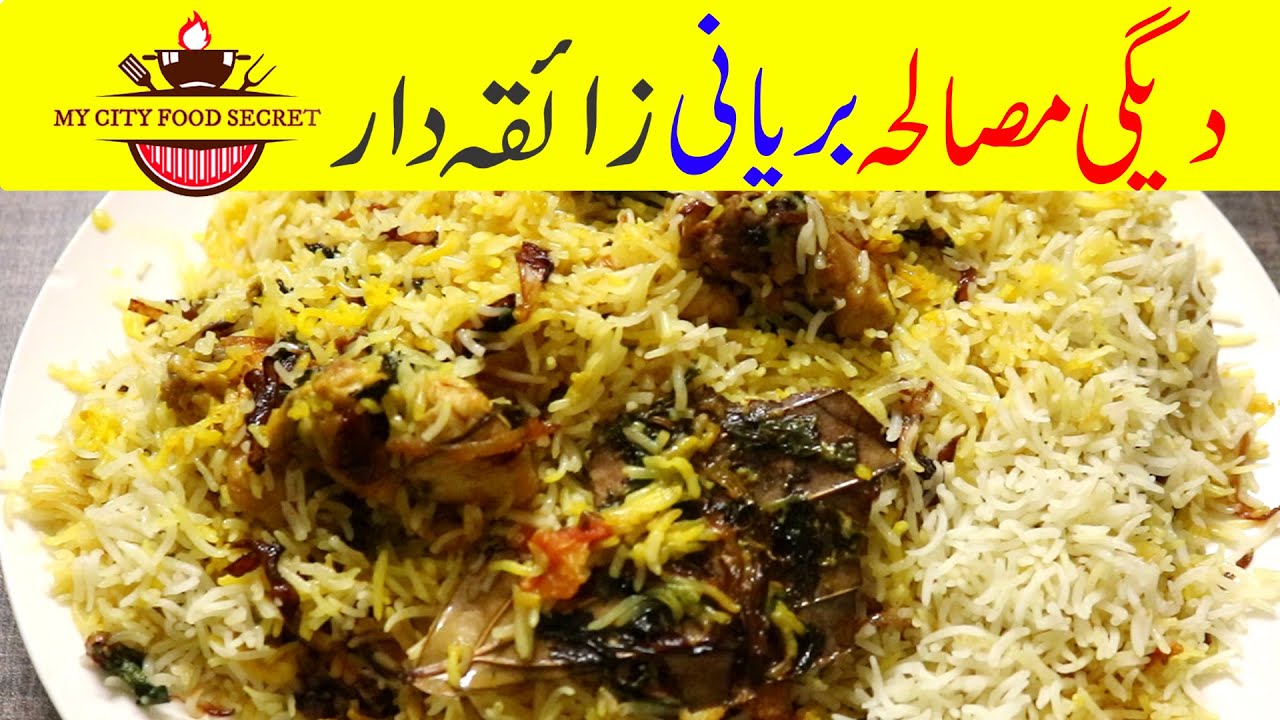 Degi Masala Biryani Recipe. One of the simplest Degi Masala Biryani recipes for you today. A must try recipe for you to enjoy with family. Special Degi style biryani is made from rice, Chicken and spices. Each and every single detail has been shown to public so that they make it perfectly in a Degh or Big Pot. Please do like and share our video if you like it. This biryani recipe is awesome masale daar and tasty as well if u are a biryani lover so must try it and share your views with through comments and share subscribe our channel Thanks for watching.
Ingredients:
-Zeera (Cumin seeds) 1/2 tsp
-Laung (Cloves) 6
-Dahi (Yogurt) 1/2 Cup
-Zarda ka rang (Yellow food color) ½ tsp
-Water 1 Cup
-Chicken mix boti 500g
-Adrak (Ginger) julienne 2 inch piece
-Lehsan paste (Garlic paste) 2 tbs
-Namak (Salt) ½ tbs or to taste
-Sabut kali mirch (Black peppercorns) 10
-Tez paat (Bay leaves) 2-3
-Lemon juice 3 tbs
-Cooking oil 3 tbs
-Haldee powder (Turmeric powder) 1/4 tsp
-Lal mirch powder (Red chilli powder) 1 tbs or to taste
-Hara dhania (Fresh coriander) chopped handful
-Podina (Mint leaves) chopped handful
-Pyaz (Onion) fried 2
-Chawal (Rice) 500g (soaked & boiled with salt until ¾th done)
-Cooking oil 4 tbs
Directions:
-Add whole spices fry for 30 sec
-In a pan,add chicken fry till tender
-Add ginger,garlic paste,salt, bay leaves,lemon juice,prepared spice mix (reserve 1 tbs for later use),cooking oil,mix well and bring it to boil,cover & cook on medium flame for 6-8 minutes then cook uncovered on high flame until water is reduced.
-Add turmeric powder,red chilli powder,fresh coriander,mint leaves,green chilies,mix well and cook for 2-3 minutes.
-Add fried onion,prepared yogurt,half quantity of boiled rice,reserved prepared spice mix,remaining boiled rice,cooking oil,cover & steam cook on low flame for 18-20 minutes & serve!
======================================================
chicken biryani, biryani recipe, chicken biryani recipe, dum biryani, kalyani biryani, cook with fem kalyani biryani, chicken biryani by cook with fem, biryani, chicken, indian chicken biryani, mumbai biryani, chennai biryani recipe, best biryani recipe, kalyani biryani by cook with fem, cook with fem biryani recipes, biryani video, kalyani chicken biryani, how to make biryani, chicken biryani, dum biryani, how to make, chicken biryani recipe, best biryani recipe, restaurant style biryani, dhaba stlye chicken biryani, indian biryani recipes
======================================================
▬▬▬▬▬▬ 5 Things You Should Do Now ▬▬▬▬▬▬
►Hit the thumbs up
►Subscribe to my channel
►Hit the notification bell
►Share with a friend
►Leave your questions and comments below
▬▬▬▬▬▬ Subscribe To Our Channel ▬▬▬▬▬▬
====================================================
——————————————————————————————-
1. Mughlai Biryani Recipe | Easy Chicken Biryani Recipe | ZOOBIA FAROOQ |MY CITY FOOD SECRETS
▶️ https://youtu.be/CCd7p5w2QWM
2. Rabri Shake Recipe | Special Rabri Doodh Shake | ZOOBIA FAROOQ | MY CITY FOOD SECRETS
▶️ https://youtu.be/90ctIxjQYqw
3. Hyderabadi Chicken Gravy | Hyderabadi Chicken Masala | ZOOBIA FAROOQ | MY CITY FOOD SECRETS
▶️ https://youtu.be/WbX5EKPHurY
4. Potato Stick Kabab Recipe | How To Make Potato Recipe | ZOOBIA FAROOQ | MY CITY FOOD SECRETS
▶️ https://youtu.be/YLXDJuvxIZg
5. How To Make Rabri At Home | Dessert Recipe Instant | ZOOBIA FAROOQ | MY CITY FOOD SECRETS
▶️ https://youtu.be/Ly56VsMwyjc
6. Badami Korma Recipe | Deghi Qorma | ZOOBIA FAROOQ | MY CITY FOOD SECRETS
▶️ https://youtu.be/lBCzwYaox64
7. Pista milk shake | Milk Shake Recipe | Drinks Recipe | ZOOBIA FAROOQ | MY CITY FOOD SECRETS
▶️ https://youtu.be/Sf-uzXG_Occ
====================================
Follow Us On Social Media
====================================
YouTube : https://www.youtube.com/channel/UCu7I…
Facebook Page : https://www.facebook.com/mycityfoodse…
Twitter : https://twitter.com/FarooqZoobia
Tumblr : mycityfoodsecrets.tumblr.com
Blogger: https://mycityfoodsecrets.blogspot.com
Instagram : https://www.instagram.com/mycityfoodsecrets/
Website : www.mycityfoodsecrets
#Dedimasalabiryani #chickenbiryani #Bestbiryani #Delicious #mycityfoodsecrets #Zoobiafarooq
Degi Masala Biryani Recipe,degi biryani banane ka tarika,degi biryanifood fusion,Delhi recipes,food fusion biryani,masala chicken biryani,simple,Special Chicken Biryani,chicken degi style biryani,Restaurant Style Biryani Original Recipe,Biryani recipe Pakistani,Degi Biryani recipe Pakistani,Chadni Chowk Biryani,#food,#chicken,masala biryani recipe in urdu,masala biryani easy recipe,masala biryani recipe pakistani,How To Make Masala Biryani by zoobia Farooq