Chicken Hakka Noodles | Easy Chickem Hakka Noodles At Home – Zoobia Farooq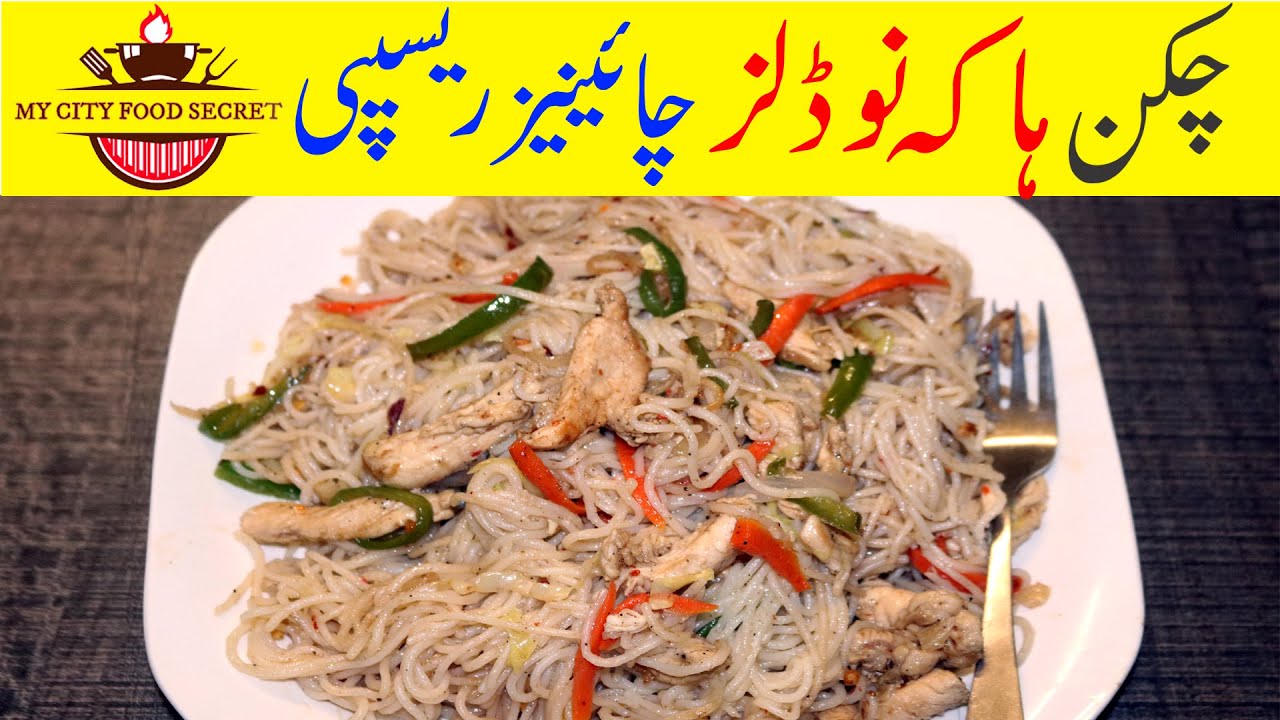 Chicken Hakka Noodles. How to cook Chicken Hakka Noodles. Learn to cook Chinese recipe and be a chef yourself. If you make it with love they will taste better than ours. Try this "Chicken Hakka Noodles" Recipe and let us know how it went. Easy Chicken Showmen Recipe. Chicken Hakka Noodles is very tempting recipe. It is superbly tasty and everyone just gonna love it. So, try it and share your dish with others too. If you like my recipe and if you would try it at your home then don't forget to share your experience with me by commenting below and by sending a fantastic photo of your prepared Chicken Hakka Noodles dish on my Facebook page My City Food Secrets. the Facebook page link is given below at the ending of the description. Chicken Noodles is one of the most favorite Chinese dishes and is so easy to make restaurant style chicken noodles at home. And the benefits are lots of chicken in the noodles, much healthier, and tastes a million times better. Noodles are kids favorite and I am sure adults would also love it. The best part is that it is so easy to make noodles at home. I like to throw in a bit of veggies to my chicken noodles….and its always what is available in the refrigerator..
INGREDIENTS:
For Boiling Noodles
• Noodles 1 packet
• Oil 2 tbsp
• Salt 1 tsp.
Chicken, spices and vegies:
• Boneless Chicken cut in Julienne ½ kg / 500 gm
• Onion Sliced 1 Medium
• Capsicum (Julienne) Medium 1
• Carrot (Julienne) 1 Medium
• Garlic Chopped 2 tbsp
• Julienne Cabbage ½ Cup
• Soya Sauce 2 tbsp
• Vinegar 2 tbsp
• Salt 1 tsp + 1 1/2 tsp Or to taste
• Black pepper 1 tsp + 1 tsp
• Red Chili Flakes 1 tsp
• Oil ½ to ¾ Cup
METHOD:
o Boil the noodles with 1 tbsp of oil & 1.5 tsp of salt till it done. It shouldn't be too much soft. Once boiled, rinse the noodles with cold water 1-2 times and set aside.
o In a wok add oil. When heated on moderate add Ginger and garlic. Before their color changes add chicken with 1 tsp of salt & black pepper, and with 1 tbsp of Vinegar and Soya Sauce. Keep the flame high and stir fry the chicken.
o When the chicken is done, add onions (both) and mix well for 1-2 minutes. Add Carrots and keep mixing.
o Add Capsicum, Cabbage, Noodles and all seasonings. Keep Tossing on high flame. Engaged both hands using spatulas while tossing.
o Lastly Onions Greens on top and give a last mix.
o Adjust salt and spices according to your taste and serve
======================================================
Chicken Hakka Noodles Recipe | Indo Chinese Recipe | Dhaba style Chicken Hakka Noodles Recipe by Zoobia Farooq |
======================================================
▬▬▬▬▬▬ 5 Things You Should Do Now ▬▬▬▬▬▬
►Hit the thumbs up
►Subscribe to my channel
►Hit the notification bell
►Share with a friend
►Leave your questions and comments below
▬▬▬▬▬▬ Subscribe To Our Channel ▬▬▬▬▬▬
====================================================
——————————————————————————————-
1. Mughlai Biryani Recipe | Easy Chicken Biryani Recipe | ZOOBIA FAROOQ |MY CITY FOOD SECRETS
▶️ https://youtu.be/CCd7p5w2QWM
2. Rabri Shake Recipe | Special Rabri Doodh Shake | ZOOBIA FAROOQ | MY CITY FOOD SECRETS
▶️ https://youtu.be/90ctIxjQYqw
3. Hyderabadi Chicken Gravy | Hyderabadi Chicken Masala | ZOOBIA FAROOQ | MY CITY FOOD SECRETS
▶️ https://youtu.be/WbX5EKPHurY
4. Potato Stick Kabab Recipe | How To Make Potato Recipe | ZOOBIA FAROOQ | MY CITY FOOD SECRETS
▶️ https://youtu.be/YLXDJuvxIZg
5. How To Make Rabri At Home | Dessert Recipe Instant | ZOOBIA FAROOQ | MY CITY FOOD SECRETS
▶️ https://youtu.be/Ly56VsMwyjc
6. Badami Korma Recipe | Deghi Qorma | ZOOBIA FAROOQ | MY CITY FOOD SECRETS
▶️ https://youtu.be/lBCzwYaox64
7. Pista milk shake | Milk Shake Recipe | Drinks Recipe | ZOOBIA FAROOQ | MY CITY FOOD SECRETS
▶️ https://youtu.be/Sf-uzXG_Occ
8. Peshawari Chapli Kabab | Special Chapli kabab | ZOOBIA FAROOQ | MY CITY FOOD SECRETS
▶️ https://youtu.be/kccKLz7qs8I
====================================
Follow Us On Social Media
====================================
YouTube : https://www.youtube.com/channel/UCu7I…
Facebook Page : https://www.facebook.com/mycityfoodse…
Twitter : https://twitter.com/FarooqZoobia
Tumblr : mycityfoodsecrets.tumblr.com
Blogger: https://mycityfoodsecrets.blogspot.com
Instagram : https://www.instagram.com/mycityfoodsecrets/
Website : www.mycityfoodsecrets
#chickenhakkanoodles #hakkanoodles #Delicious #mycityfoodsecrets #Zoobiafarooq
Chicken Hakka Noodles,chowmein recipe,chicken chow mein in urdu,Hakka Noodle Recipe,healthy recipe,easy chicken hakka noodles recipe,quick hakka noodles recipe,easy chicken hakka noodles,easy chickem hakka noodles at home,chicken noodles kaise banaye,indo chinese recipes,noodles recipe in hindi,vegetale noodles,vegetable hakka noodles,how to cook chicken hakka noodles,my city food secrets,#recipe,#Pakistani,easy hakka noodles recipe,chinese noodles recipe