Read Time:
3 Minute, 11 Second
Karachi AL Naseeb Biryani Recipe | Original Biryani Recipe – Zoobia Farooq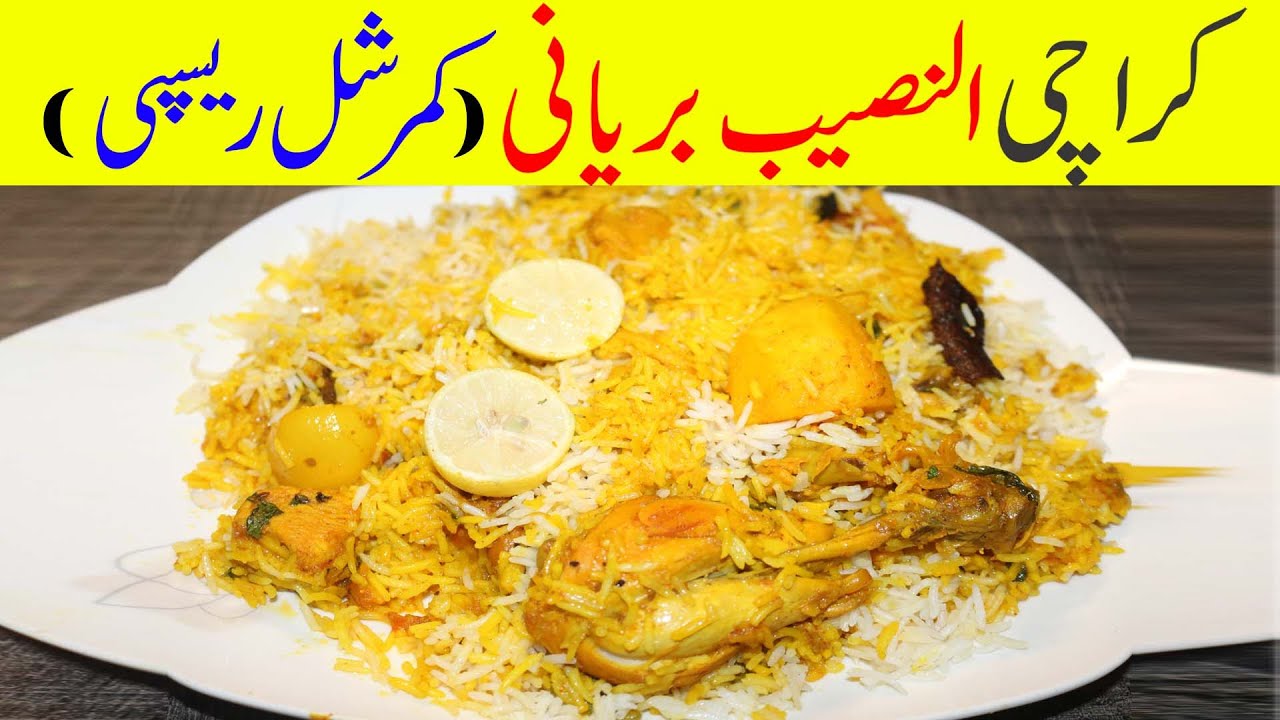 Karachi AL Naseeb Biryani Recipe. Athentec Recipe Of Karachi Al Naseeb Biryani. Biryani also known as biriyani, biriani, birani or briyani, is a mixed rice dish with its origins among the Muslims of the Pakistani subcontinent. It can be compared to mixing a curry, later combining it with semi-cooked rice separately. This dish is especially popular throughout the Pakistani subcontinent, as well as among the diaspora from the region. It is also prepared in other regions such as Karchi. It is made with Pakistan spices, rice, meat (chicken ) Karachi is famous for its spicy and yummy food. Biryani is one of the leading food of Karachi. There are so many varieties and biryani spots where you can enjoy biryani. Naseeb Biryani is superbly delicious. Once you eat you will love it and eat again and again.
Ingredients
Tomato Half KG
Green chilli. 7
Ginger garlic past 2 TBS
Salt 1 TBS
Star anise 4
Nutmeg and Mace Powder 1 TBS
Coriander Leaves 2 TBS
Mint Leaves 2 TBS
Cinnamon 7 small pcs
Cumin seed 1 TBS
Black pepper 10
Turmeric 1 TBS
Red chilli Powder 2 TBS
Potato Half KG
Chiken 1 KG
Rice 1 KG
Water As Required
Oil. Half Letre
Yugert 1 CUP
Dry pulm..Alo bukhara)…50 g
Chaina salt. 1 TBS
Green chilli peast 1 TBS
Lemon Slices 3
Orange Food Colour 1 TBS
Directions:
-In Pan,add cooking oil, Tomato, Plums, Ginger Garlic Paste, Green Chilli Paste. Green Chilli, China Salt, Slat, Turmeric, Red Chilli Powder, Star Anise, Cinnamon, Cumin, Black Pepper and Half Litre Water Cook it
To Boil,
– Add Potato Cook For 5 To 6 Mints
-Add Chicken and Half Liter Water Cook For 12 Mints Untill Tender
-Add Yoghurt, Nutmeg and Mace Powder, Food Colour Cook For 5 Mints
-Add Mint Leaves, Corriander Leaves and Lemon
-Boil The Rice With Salt
-Now Add Boil Rice To The Ready Qorma And Quarter Cup Oil Close
The Lid And Cook on Low Flame For 12 Mints.
– Karachi AL-Naseeb Biryin Ready For Serve.
=============================================
=====================================================
▬▬▬▬▬▬ 5 Things You Should Do Now ▬▬▬▬▬▬
►Hit the thumbs up
►Subscribe to my channel
►Hit the notification bell
►Share with a friend
►Leave your questions and comments below
▬▬▬▬▬▬ Subscribe To Our Channel ▬▬▬▬▬▬
====================================================
——————————————————————————————-
1. Mughlai Biryani Recipe | Easy Chicken Biryani Recipe | ZOOBIA FAROOQ |MY CITY FOOD SECRETS
▶️ https://youtu.be/CCd7p5w2QWM
2. Rabri Shake Recipe | Special Rabri Doodh Shake | ZOOBIA FAROOQ | MY CITY FOOD SECRETS
▶️ https://youtu.be/90ctIxjQYqw
3. Hyderabadi Chicken Gravy | Hyderabadi Chicken Masala | ZOOBIA FAROOQ | MY CITY FOOD SECRETS
▶️ https://youtu.be/WbX5EKPHurY
4. Potato Stick Kabab Recipe | How To Make Potato Recipe | ZOOBIA FAROOQ | MY CITY FOOD SECRETS
▶️ https://youtu.be/YLXDJuvxIZg
5. How To Make Rabri At Home | Dessert Recipe Instant | ZOOBIA FAROOQ | MY CITY FOOD SECRETS
▶️ https://youtu.be/Ly56VsMwyjc
6. Badami Korma Recipe | Deghi Qorma | ZOOBIA FAROOQ | MY CITY FOOD SECRETS
▶️ https://youtu.be/lBCzwYaox64
7. Pista milk shake | Milk Shake Recipe | Drinks Recipe | ZOOBIA FAROOQ | MY CITY FOOD SECRETS
▶️ https://youtu.be/Sf-uzXG_Occ
8. Peshawari Chapli Kabab | Special Chapli kabab | ZOOBIA FAROOQ | MY CITY FOOD SECRETS
▶️ https://youtu.be/kccKLz7qs8I
====================================
Follow Us On Social Media
====================================
YouTube : https://www.youtube.com/channel/UCu7I…
Facebook Page : https://www.facebook.com/mycityfoodse…
Twitter : https://twitter.com/FarooqZoobia
Tumblr : mycityfoodsecrets.tumblr.com
Blogger: https://mycityfoodsecrets.blogspot.com
Instagram : https://www.instagram.com/mycityfoodsecrets/
Website : www.mycityfoodsecrets
#karachikialnaseebbiryani #karachibiryani #Delicious #mycityfoodsecrets #Zoobiafarooq
#karachikialnaseebbiryani #karachibiryani
Karachi AL Naseeb Biryani Recipe,naseebbiryani,karachi biryani reicpe,how to make biryani at home,Original karachi naseeb biryani recipe,Original karachi Al naseeb biryani recipe,Original Lahore Al naseeb biryani,biryani house,biryani recipe pak,chicken biryani recipes,pakistani street food,best Pulao of Lahore,Degi Biryani,Dum Biryani,Pakistani Biryani,Street Food Lahore,naseeb biryani mehmoodabad karachi,biryani bombay biryani,best biryani in karachi