Read Time:
3 Minute, 10 Second
Tawa Chana Recipe | Restaurant Style Chole Recipe | Zoobia Farooq – Zoobia Farooq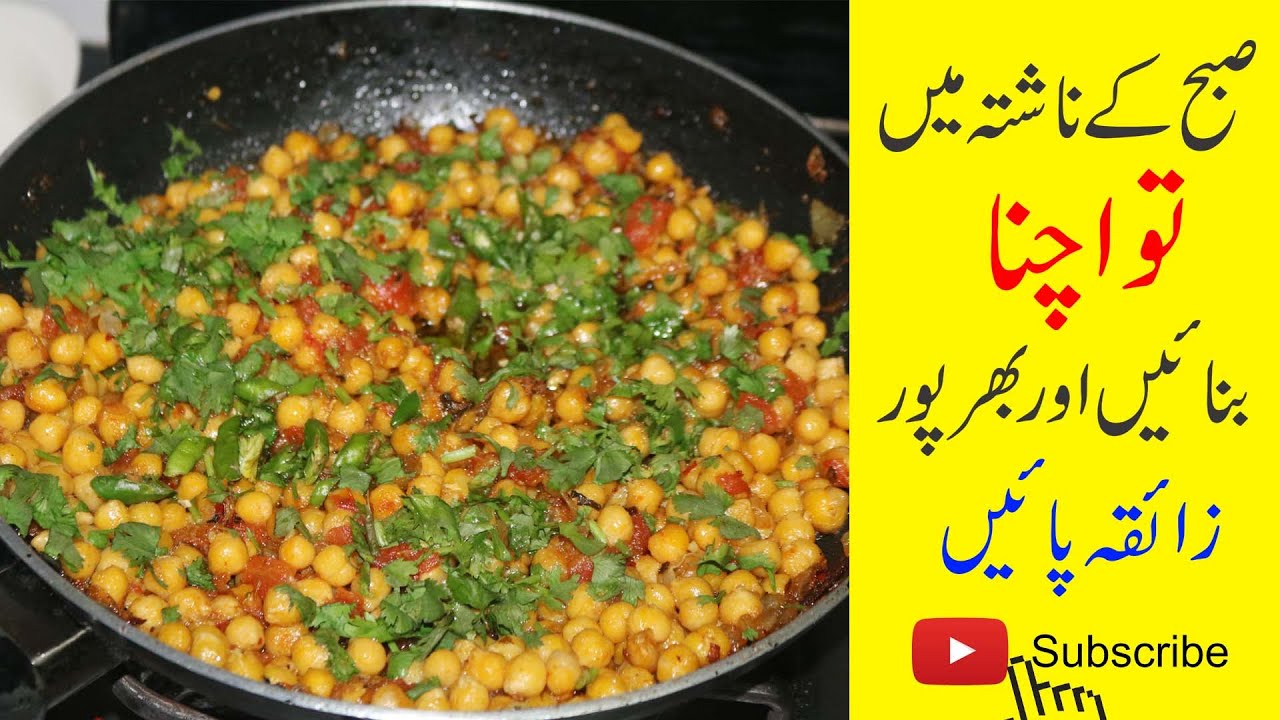 Tawa Chana Recipe. Learn how to make Spicy Heart Tawa Chana Recipe. Very easy step by step tawa recipes video recipe. Enjoy this homemade food street-style Tawa Chana Recipe from scratch. A must try the recipe. Best for every one. Tawa Chana is a easy indian and pakistani recipe. it is mainly prepared in Tawa (Frying Pan) and need not required to deep fried in oil. its very simple and tasty to take as morning and evening. This simple Tawa Chana recipe by Zoobia Farooq, comprises only of a few spices, making it a delicious chana recipe to cook up quickly. This Tawa Chana recipe is a super hit among kids and adults alike.
Ingredients
250 gm chickpeas
1/4 cup cooking oil
1 onion chopped
1 to mato chopped
4 green chilies chopped
1 tsp ginger garlic paste heaped
1 tsp red pepper flakes crushed
1 tsp red chili powder
1 tsp coriander seeds crushed
1 tsp cumin seeds crushed
1 tsp chat masala
1 tsp dry fenugreek leaves
1/2 tsp turmeric powder salt according to taste
Cooking Method
1. Wash chickpeas with few changes of water.
2. Add 1 tsp baking soda and soak overnight.
3. Drain.
4. Boil chickpeas with 1 tea bag for 2 hours or until tender.
5. Drain all excess water.
6. Heat oil on a griddle or a Tawa.
7. Saute chopped onion for 3-4 minutes
8. Then add ginger garlic paste and fry for a few seconds.
9. Now add chopped tomato and green chilies. Stir well.
10. Season with turmeric, chili powder, crushed red pepper, coriander, cumin, chat Masala and salt.
11. Also add dry fenugreek leaves.Cook for 5-8 minutes by adding little water.
12. Then add boiled chickpeas and cook for 10-15 minutes.
13. Garnish with ring onions and green chilies. Tawa Chana is ready to serve. ENJOY!!
=====================================================
Tawa Chana Recipe by Zoobia Farooq – Pakistani Chef Recipes | tawa chana – Pakistani Chef Recipes | Chickpea Stir Fry/Tawa Chole | Tava Chana recipe, Indian Tava Recipes – Tarla Dalal | Tawa Chana Recipe | TAWA CHANNA Recipe | punjabi dry chana masala recipe | how to make dry kala chana masala.
======================================================
▬▬▬▬▬▬ 5 Things You Should Do Now ▬▬▬▬▬▬
►Hit the thumbs up
►Subscribe to my channel
►Hit the notification bell
►Share with a friend
►Leave your questions and comments below
▬▬▬▬▬▬ Subscribe To Our Channel ▬▬▬▬▬▬
====================================================
——————————————————————————————-
1. Mughlai Biryani Recipe | Easy Chicken Biryani Recipe | ZOOBIA FAROOQ |MY CITY FOOD SECRETS
▶️ https://youtu.be/CCd7p5w2QWM
2. Rabri Shake Recipe | Special Rabri Doodh Shake | ZOOBIA FAROOQ | MY CITY FOOD SECRETS
▶️ https://youtu.be/90ctIxjQYqw
3. Hyderabadi Chicken Gravy | Hyderabadi Chicken Masala | ZOOBIA FAROOQ | MY CITY FOOD SECRETS
▶️ https://youtu.be/WbX5EKPHurY
4. Potato Stick Kabab Recipe | How To Make Potato Recipe | ZOOBIA FAROOQ | MY CITY FOOD SECRETS
▶️ https://youtu.be/YLXDJuvxIZg
5. How To Make Rabri At Home | Dessert Recipe Instant | ZOOBIA FAROOQ | MY CITY FOOD SECRETS
▶️ https://youtu.be/Ly56VsMwyjc
6. Badami Korma Recipe | Deghi Qorma | ZOOBIA FAROOQ | MY CITY FOOD SECRETS
▶️ https://youtu.be/lBCzwYaox64
7. Pista milk shake | Milk Shake Recipe | Drinks Recipe | ZOOBIA FAROOQ | MY CITY FOOD SECRETS
▶️ https://youtu.be/Sf-uzXG_Occ
8. Peshawari Chapli Kabab | Special Chapli kabab | ZOOBIA FAROOQ | MY CITY FOOD SECRETS
▶️ https://youtu.be/kccKLz7qs8I
====================================
Follow Us On Social Media
====================================
YouTube : https://www.youtube.com/channel/UCu7I…
Facebook Page : https://www.facebook.com/mycityfoodse…
Twitter : https://twitter.com/FarooqZoobia
Tumblr : mycityfoodsecrets.tumblr.com
Blogger: https://mycityfoodsecrets.blogspot.com
Instagram : https://www.instagram.com/mycityfoodsecrets/
Website : www.mycityfoodsecrets
#Tawachana #Chanarecipe #Delicious #mycityfoodsecrets #Zoobiafarooq