Read Time:
2 Minute, 51 Second
Aloo Gosht Recipe | How To Make Aloo Gosht | Aloo Gosht Shorba Recipe – Zoobia Farooq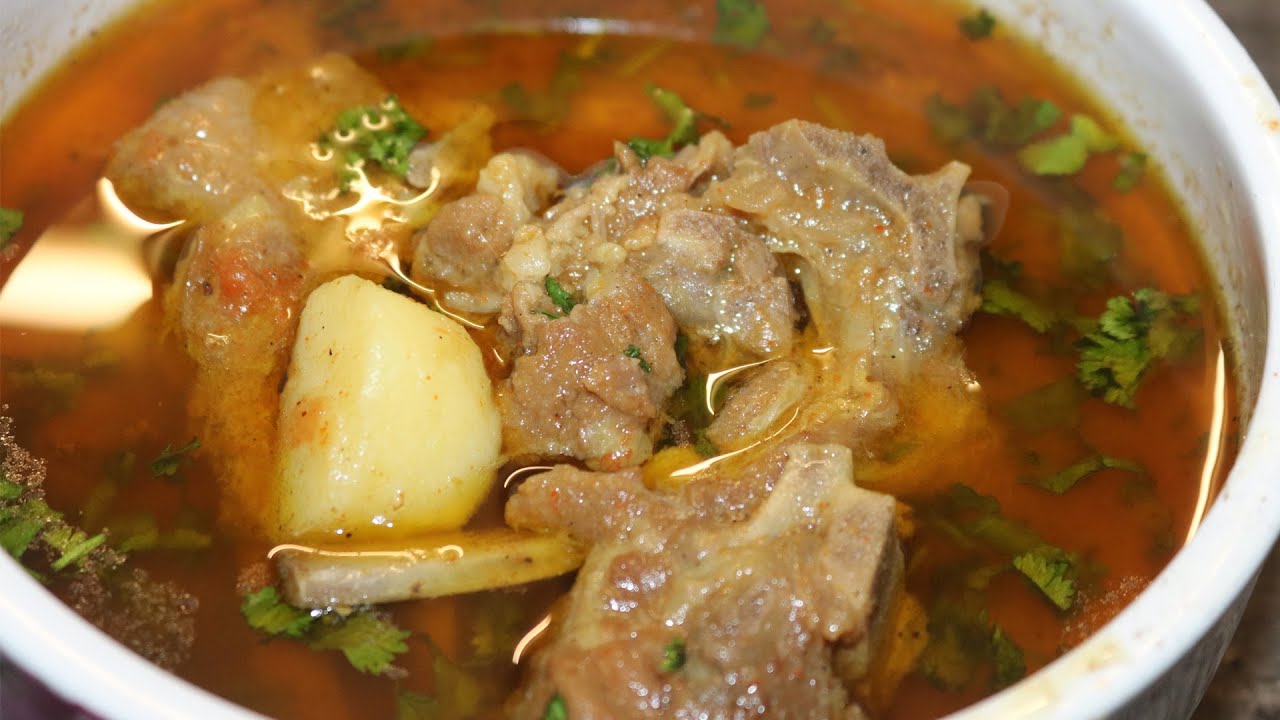 Aloo Gosht Recipe. Aloo gosht is a meat curry, originating from the Indian subcontinent, and popular in Pakistani, Bangladeshi and North Indian cuisine. It consists of potatoes cooked with meat, usually lamb or mutton, in a stew-like shorba gravy. Now you can prepare this yummy Aaloo Gosht at home without any trouble. Find the required ingredients and method Show on this Video. Follow the recipe as it is to get the perfect taste.
Ingredients:
-Cooking oil 1 cup
-Pyaz (Onion) sliced 1 medium
-Mutton mix boti 500 gms
-Adrak lehsan (Ginger garlic) paste 1 tbs
-Lal mirch (Red chili) powder 1/2 tsp or to taste
-Namak (Salt) 1 & ½ tsp or to taste
-Haldee (Turmeric) 1/4 tsp
-Tamatar (Tomato) chopped 2 medium
-Pani (Water) 2 cups
-Aloo (potato) 200gms peeled and halves
-Garam masala powder ½ tsp
-Hara dhania (Fresh coriander) as needed
-Cinnamon Stick 1
-Black Cardamom 2
Direction:
-In a Pressure Cooker Add Mutton, Ginger Garlic Paste, Onion, Tomato, Cinnamon Stick, Black Cardamom, All Spices and 1 Glass of water now close the Lid and cook it for 20 mints
-Evaporate The Extra Water and Now Add Oil, Potatoes Cook it for 5-8 Mints
-Now Add 1 Glass Of Hot Water Cover and cook 4-5 minutes
Sprinkle with garam masala powder and hara dhania.
=====================================================
Gravy Aaloo Gosht Recipe – Cook with Zoobia Farooq | Aloo Gosht – Aloo Gosht Recipe in Urdu | Aloo Gosht Shorba – Pakistani Lamb and Potato Curry | Aloo Gosht Recipe (Mutton Curry with Potato) Step by Step | Aloo Gosht (With Tamatar) | Potato Mutton (Aloo Gosht) – Zoobia Farooq – My City Food Secrets | Aloo Gosht | Mutton Curry with Potatoes | Pressure Cooker | Search Results | ‫دیگی شآدیوں والا آلوگوشتI Degi Aloo Gosht Recipe I Shadiyon‬ | Degi aloo gosht recipe/Shadiyon wala aloo gosht | Aloo Gosht recipe|Just like mom made it | A Delicious Pakistani Aaloo Gosht
======================================================
▬▬▬▬▬▬ 5 Things You Should Do Now ▬▬▬▬▬▬
►Hit the thumbs up
►Subscribe to my channel
►Hit the notification bell
►Share with a friend
►Leave your questions and comments below
▬▬▬▬▬▬ Subscribe To Our Channel ▬▬▬▬▬▬
====================================================
——————————————————————————————-
1. Mughlai Biryani Recipe | Easy Chicken Biryani Recipe | ZOOBIA FAROOQ |MY CITY FOOD SECRETS
▶️ https://youtu.be/CCd7p5w2QWM
2. Rabri Shake Recipe | Special Rabri Doodh Shake | ZOOBIA FAROOQ | MY CITY FOOD SECRETS
▶️ https://youtu.be/90ctIxjQYqw
3. Hyderabadi Chicken Gravy | Hyderabadi Chicken Masala | ZOOBIA FAROOQ | MY CITY FOOD SECRETS
▶️ https://youtu.be/WbX5EKPHurY
4. Potato Stick Kabab Recipe | How To Make Potato Recipe | ZOOBIA FAROOQ | MY CITY FOOD SECRETS
▶️ https://youtu.be/YLXDJuvxIZg
5. How To Make Rabri At Home | Dessert Recipe Instant | ZOOBIA FAROOQ | MY CITY FOOD SECRETS
▶️ https://youtu.be/Ly56VsMwyjc
6. Badami Korma Recipe | Deghi Qorma | ZOOBIA FAROOQ | MY CITY FOOD SECRETS
▶️ https://youtu.be/lBCzwYaox64
7. Pista milk shake | Milk Shake Recipe | Drinks Recipe | ZOOBIA FAROOQ | MY CITY FOOD SECRETS
▶️ https://youtu.be/Sf-uzXG_Occ
8. Peshawari Chapli Kabab | Special Chapli kabab | ZOOBIA FAROOQ | MY CITY FOOD SECRETS
▶️ https://youtu.be/kccKLz7qs8I
====================================
Follow Us On Social Media
====================================
YouTube : https://www.youtube.com/channel/UCu7I…
Facebook Page : https://www.facebook.com/mycityfoodse…
Twitter : https://twitter.com/FarooqZoobia
Tumblr : mycityfoodsecrets.tumblr.com
Blogger: https://mycityfoodsecrets.blogspot.com
Instagram : https://www.instagram.com/mycityfoodsecrets/
Website : www.mycityfoodsecrets
#Aloogosht #Degialoogosht #Delicious #mycityfoodsecrets #Zoobiafarooq