Read Time:
1 Minute, 45 Second
Chicken Tahari | Hyderabadi Chicken Tahari Recipe | Tahari Recipe – Zoobia Farooq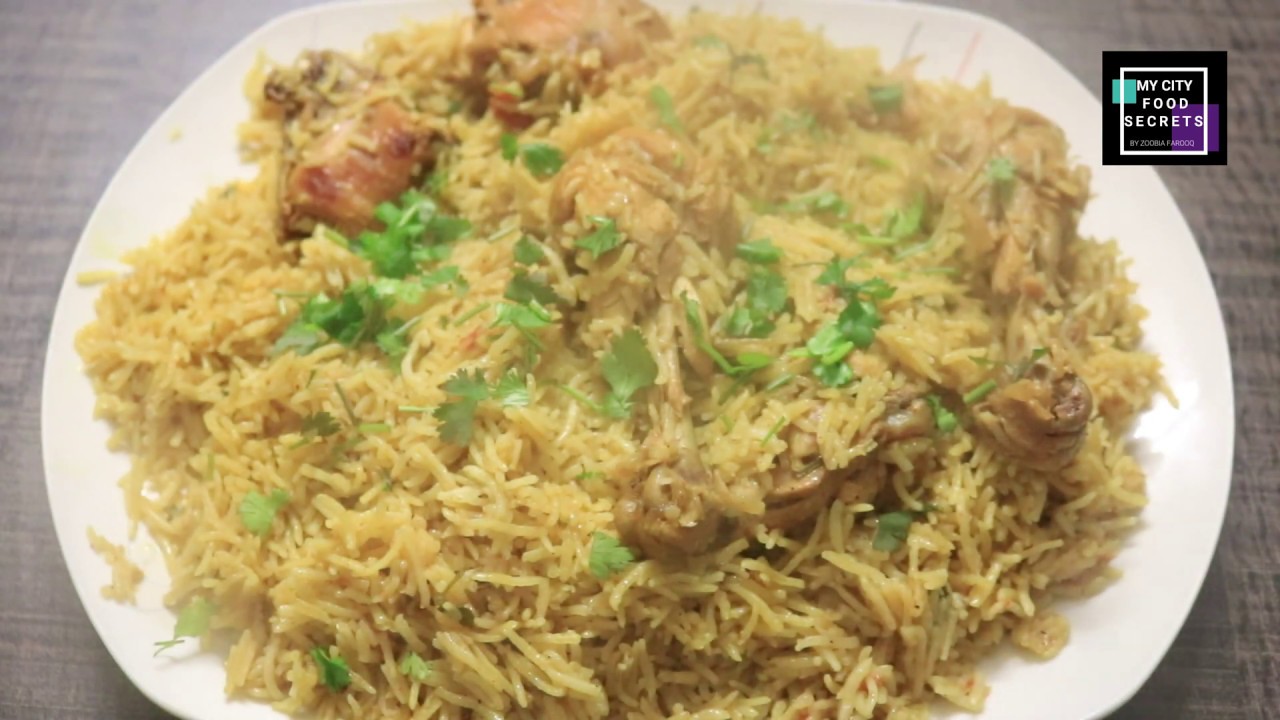 Chicken Tahari. Hyderabadi Chicken Tahari is an Authentic recipe of Hyderabad made using Marinated chicken pieces, various spices and Basmati rice.This is also called Chicken Pulao. Learn with me the step by step method of making this amazing recipe. Chicken pulao or chicken tahari is a delicious chicken rice recipe made using chicken and rice mixed together by adding aromatic spices into it.
The chicken pulao shared here is along with a video procedure below and it tastes as good as a biryani. Some call it chicken tahari, some call it a quick biryani method but this is a variation of all those rice recipes where aromatic spices and aromatic flavors are infused to make this pulao than making it a simple plain pulao recipe.
1.FOR MARINATION OF CHICKEN
——————————————————
Chicken – 500 gram (medium sized pieces)
INGREDIENTS
—————————————————–
Ginger garlic paste – 1 tablespoon
Red chilli powder – 1 tablespoon
Turmeric powder – 1/2 teaspoon
Garam masala powder – 1/2 teaspoon
Salt – 1 teaspoon
Lemon juice – 1 teaspoon
Yogurt – 200 gram
Mix well and marinate for 30 minutes.
2.Wash and soak rice in water for 30 minutes.
3.In a pan heat oil – 5 tablespoon…to it add
Cardamom – 3
Cinnamon sticks – 2
Cloves – 4
Bay leaves – 2
4.Add onion sliced – 1 medium sized , fry till golden brown.
5.Add ginger garlic paste – 2 tablespoon and fry till raw smell disappears.
6.Add tomatoes – 3 medium sized cut into small pieces.
7.Now add the marinated chicken pieces mix well and cook well.
8.Add coriander cook till chicken is tender.
9.Now add water 3 glasses as we took rice 2 glasses.
10.Add Green chillies – 5, and few coriander leaves.
11.Add salt – 2 teaspoon
12.Let the water boil then add soaked rice and cook well till water is dry.
13.When water dries simmer the flame, close the lid and cook for 15 minutes under low flame.
14.That's it. chicken tahari is ready.
15.Serve hot with raita.