Anda Curry Recipe | Dhaba Style Anda Curry | ZOOBIA FAROOQ – Zoobia Farooq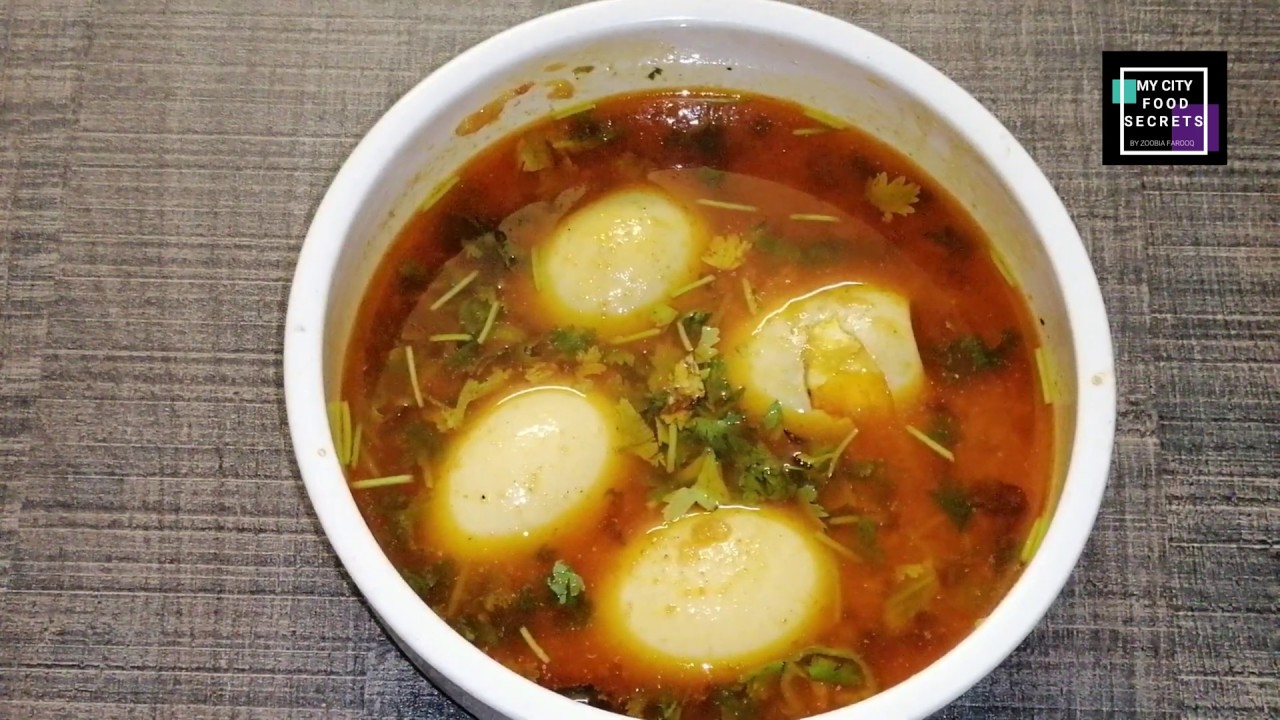 In this video I have shown the easy anda masala recipe. This restaurant style egg curry recipe is very easy to make and requires very less ingredients. Anda curry is a delicious option for main course, it goes well with roti, rice, paratha, naan, kulcha etc. This type of egg masala is very popular Indian subcontinent, Egg Curry – Perfect boiled eggs simmered in a robust masala curry. Eggs are an important part of our diet and this recipe is simple & bursting with flavours. Egg curry is best enjoyed with a parantha. this is Dhaba style Anda Masala recipe is a tasty egg curry made using boiled eggs fried and then cooked in a gravy rich in spices.
Ingredients
2 tbsp Oil
1 tbsp Ghee
1 black cardamom
1 Cinnamon stick
1 bay leave
1 cloves
1 tsp Cumin seeds
4 Onion, chopped
1 tsp Ginger garlic paste
½ tsp turmeric powder
1 tsp red chilli powder
1 tsp coriander powder
¼ tsp kasuri methi , crushed
4 tomato, chopped
1 no egg yolk, boiled
Salt to taste
4 no egg, boiled
1 tsp oil
½ tsp red chilli powder
½ tsp turmeric powder
Process:-
● In a pan heat oil, ghee. Add black cardamom, cinnamon stick, bay leave, cloves and cumin
seeds saute well.
● Add onion and saute till it become translucent. Add ginger garlic paste, turmeric powder,
red chilli powder, coriander powder and saute well add kasuri methi, tomato and saute well
till the masala gets cooked.
● Add ¼ cup water and let it cooked, add 1 egg yolk boiled so the gravy gets thicken. Add salt
to taste and let it cook.
● In a pan, Add oil, boiled and pricked egg , red chilli powder, turmeric powder and saute till
colour appear an keep it aside.
● For omelet, In a mixing bowl add eggs, turmeric powder, red chilli powder and salt to taste
and mix them well.
● In another pan add oil pour the egg mixture and cook the omelette soft in texture.
● Garnish with coriander
● Serve the gravy in two form, one with boiled egg cut into half and serve hot.
● one with omelette cut into half.
My City Food Secrets is about tasty delicious food recipes that can be made easily at home and ideas on making delicious recipes with limited and available resources in kitchen. Every recipe described in easiest way so that you can cook your food without any difficulties. My recipe mainly from Pakistani cuisine and my delicious recipes from other cuisine Here I share all type of recipes like Pakistani, Italian, South Pakistani, North Pakistani, Chinese, restaurant style, Snacks, quick and easy recipe and many more recipes in very easiest way.Check out these delicious recipes try them out yourself and let me know how they come out for you.Here is your step by step guide to the perfect Recipes Do support and subscribe to the channel. In this video I will share my favourite recipe because it is yummy and delicious! let me know in the comments how did you like it! Please Subscribe Our Channel For More Videos: __/LINKS_
YOUTUBE: https://www.youtube.com/channel/UCu7I…
Facebook Page : https://www.facebook.com/mycityfoodse…
Twitter : https://twitter.com/FarooqZoobia
Tumblr : mycityfoodsecrets.tumblr.com
Blogger: https://mycityfoodsecrets.blogspot.com/
MIX : https://mix.com/zoobiafarooq
============================================
ande ka salan banane ki recipe, ande ka salan recipe, homemade egg masala, indian non veg recipes, egg masala recipe in urdu, dhaba style anda masala recipe, egg curry masala, how to make egg curry, restaurant style egg curry, how to make hotel style egg curry, restaurant style egg gravy, egg masala dhaba style, anda curry in hindi, anda curry kaise banti hai, anda curry punjabi style, anda curry by zoobia farooq, hotel style anda curry, अंडा की सब्ज़ी, egg masala curry in a spicy tomato gravy,