Zarda Recipe Pakistani | Delicious Food Tecipes | ZOOBIA FAROOQ – Zoobia Farooq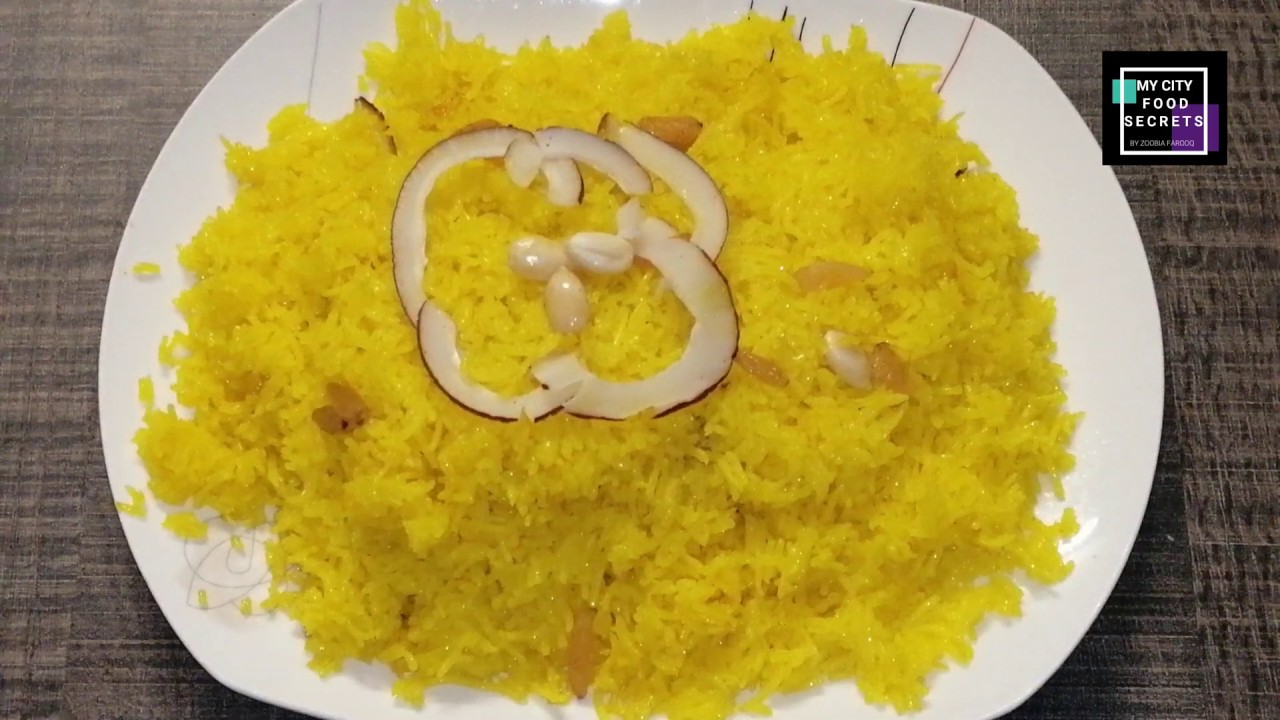 Zarda recipe is a Pakistani and Indian most famous traditional sweet dish. It has yellow color of rice with kohya and dry fruits that increase the taste of zarda recipes. So try this easy homemade zarda recipe and enjoy a delicious dessert recipe. sweet rice with step by step video recipe. this dish has its origin from the persian, where zard means bright yellow colour. however, the recipe has been hugely embraced within the indian subcontinent region and is prepared for the special occasions. the recipe is also quite popular in pakistan and has several variations to it local pakistani cuisine. sweet rice with detailed video recipe. a popular north indian flavoured rice recipe prepared with basmati rice, saffron and sugar. the dish is typically served as a dessert after the meal or perhaps during the meal during the special occasions and celebrations. generally, the dish has a bright yellow in colour with its appearance due to the use of saffron.
Ingredients:
-Water 8-10 cups
-Salt ½ tsp
-Water ¼ cup
-Zarda food color 2tsp
-Rice (sella) 1 & ½ cup (soaked for 4 hours)
-Ghee ½ cup (Preferably desi ghee)
-Green cardamom 3-4
-Cloves 3-4
-Sugar ¾ cup or to taste
-Kewra essence 1tsp
For decoration:
-Dry fruits/nuts
Direction:
-In a pot,add water, bring it to boil.
-Add salt. Dissolve zarda food color in water ,add it to pot and mix well.
-Add rice and bring it to boil,cook until rice are done.
-Strain rice and set aside.
-In a separate pot,add ghee,green cardamom and cloves,saute for a minute.
-Add boil rice, sugar.Cover and cook until sugar completely dissolves (approx.10-15 minutes) on medium low flame.
-Place griddle on stove and put back pot over griddle.
-Put it on simmer for 10 minutes.
-Add kewra essence, dry fruits/nuts.
-Cover and steam cook for 10 minutes.
-Zarda is ready
My City Food Secrets is about tasty delicious food recipes that can be made easily at home and ideas on making delicious recipes with limited and available resources in kitchen. Every recipe described in easiest way so that you can cook your food without any difficulties. My recipe mainly from Pakistani cuisine and my delicious recipes from other cuisine Here I share all type of recipes like Pakistani, Italian, South Pakistani, North Pakistani, Chinese, restaurant style, Snacks, quick and easy recipe and many more recipes in very easiest way.Check out these delicious recipes try them out yourself and let me know how they come out for you.Here is your step by step guide to the perfect Recipes Do support and subscribe to the channel. In this video I will share my favourite recipe because it is yummy and delicious!
zarda recipe
zarda recipe pakistani
zarda banane ka tarika
meethe chawal
how to make zarda
mutanjan recipe
mutanjan zarda recipe
zarda chawal
how to make mutanjan
zarda recipe in urdu
pakistani sweet rice recipe
mutanjan rice recipe in urdu
pakistani mutanjan recipe
zarda dish
how to make sweet rice
meetha pulao
zarda pulao recipe
zarda recipe in hindi
meethe chawal kaise banate hai
degi zarda recipe in urdu
zarda chawal recipe in urdu
best dessert recipe
meethe chawal kaise banate hai
how to make zarda sweet rice
sweet rice recipe pakistani in urdu
easy dinner recipes
zarda banane ka tarika
simple zarda
zarda simple recipe
how to make zarda chawal
let me know in the comments how did you like it! Please Subscribe Our Channel For More Videos: __/LINKS_
YOUTUBE: https://www.youtube.com/channel/UCu7I…
Facebook Page : https://www.facebook.com/mycityfoodse…
Twitter : https://twitter.com/FarooqZoobia
Tumblr : mycityfoodsecrets.tumblr.com
Blogger: https://mycityfoodsecrets.blogspot.com/
MIX : https://mix.com/zoobiafarooq
============================================
#zardarecipe #ShadiyonWalaZarda #zoobiafarooq