Dum Biryani Chicken | Dum Biryani Restaurant | ZOOBIA FAROOQ – Zoobia Farooq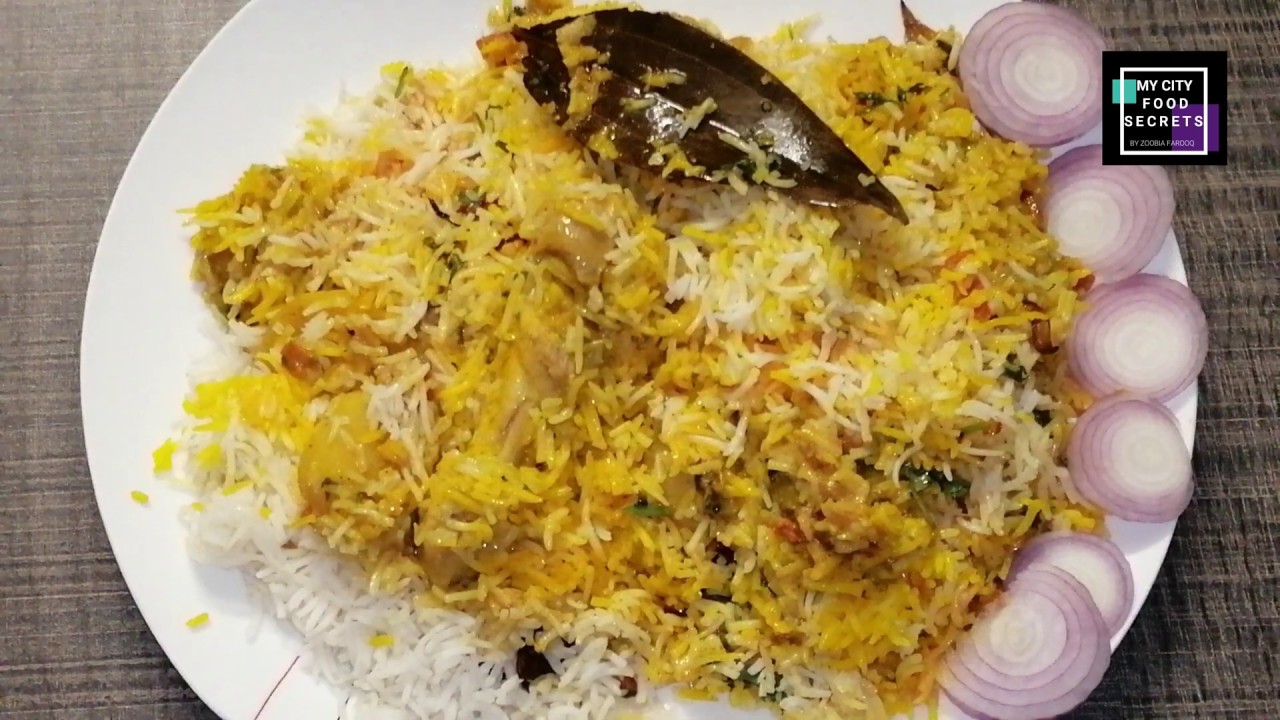 This is kind of restaurant style of preperation of birtani they wont do dum process they cook chicken saperatly with same masalas which we use for biryani and rice will be cooked saperatly if the ordre comes they mex rice and chicken togeather and serve because the same rice can also used for vegetarins. In this video we will see how to make chicken dum biryani at home. This chicken dum biryani is made in hyderabadi style, the chicken pieces are fist marinated in the spice mix and are then layered with partially cooked rice. Then the vessel is sealed with dough to lock in all the flavor from the chicken pieces. Now the chicken pieces are going to be slowly cooked and the rice ends up being so flavorful. That is the specialty of perfect chicken dum biryani. This dum biryani can be served with raita and it will taste absolutely divine.
Chicken Dum Biryani
Ingredients
For Marinating the chicken:
Chicken – 2 kg
Lemon Juice
Yogurt – 2 cup
Turmeric powder – 3/4 tsp
Red Chili powder – 2-3 tsp
Cumin powder – 2 tsp
Coriander powder – 2 tsp
Garam Masala powder – 1 tsp
Green Chilies – 5
Chopped Mint Leaves – 1 cup
Chopped Coriander Leaves – 1 cup
Ginger Garlic Paste – 3 tsp
Salt
For Fried Onions
Onions – 6 no.
Oil
For Cooking Rice
Water
Basmati Rice – 1 kg
Whole Spices – (Bay leaf, Star anise, Cinnamon, Cloves, Cardamom, Peppercorns)
Salt
For Cooking Dum Biryani
Ghee
Oil
Whole Spices – (Bay leaf, Star anise, Cinnamon, Cloves, Cardamom)
Mint leaves
Coriander leaves
Saffron Milk
Chapati Dough (to seal)
Method:
To fry the onion:
1. Take a wide sauce pan, pour some oil and add 6 medium sized onions.
2. Fry them till they are nice and brown.
To marinate the chicken:
1. Take 2 kg chicken in a bowl (Ratio 2:1. 2 kilos of chicken for 1 kilo of rice)
2. Add lemon juice and little bit of salt. Rub into the pieces and set it aside for 10 – 15 mins.
3. Next, for the main marination, in a bowl add 2 cups thick yogurt, 3/4 tsp turmeric powder, 2-3 tsps red chili powder, 2 tsps cumin powder, 2 tsp coriander powder, 1 tsp garam masala and little salt. Mix well.
4. To this add 5 finely chopped green chilies, 1 cup chopped mint leaves, 1 cup chopped coriander leaves. Mix everything together.
5. To the chicken pieces, add 3 tsp ginger garlic paste,3/4 fried onions and the entire yogurt marination.
6. Rub everything into the chicken pieces and make sure all the pieces are coated with the marination.
7. Let it marinate for 3-4 hours minimum.
To cook the rice:
1. Take 1 kg of basmati rice in a bowl.P our water.
2. Let it soak in water for 30 minutes.
3. Take a pot of water. Let it boil.
4. Add the soaked rice.
5. To this,add the whole spices – bay leaf, star anise, cinnamon, cloves, cardamom, peppercorns and little salt for seasoning. Cook till the rice is about 3/4th done.
6. Strain the water before the rice is completely cooked.
To cook the biryani:
1. Take a pot. Add ghee and little oil.
2. Add whole spices – bay leaf,star anise,cinnamon,cloves and cardamom.
3. To this, add the marinated chicken pieces and cook it for 5-7 minutes.
4. Heat the tawa and place the pot on top of it.
5. To the chicken, add mint leaves and coriander leaves.
6. Add the cooked rice and add saffron milk (soak saffron strands in warm milk)
7. Garnish it with fried onions. Add mint leaves and coriander leaves.
8. Cover the pot with a plate and seal it with chapati dough, to make sure the steam doesn't go out.
9. Use something heavy to place on top of the plate.
10. Let it cook for 30-40 minutes.
11. Remove the chapati dough seal.
12. Mix the rice well.
Serve it on a plate with raitha.
My City Food Secrets is about tasty delicious food recipes that can be made easily at home and ideas on making delicious recipes with limited and available resources in kitchen. Every recipe described in easiest way so that you can cook your food without any difficulties. My recipe mainly from Pakistani cuisine and my delicious recipes from other cuisine Here I share all type of recipes like Pakistani, Italian, South Pakistani, North Pakistani, Chinese, restaurant style, Snacks, quick and easy recipe and many more recipes in very easiest way.Check out these delicious recipes try them out yourself and let me know how they come out for you.Here is your step by step guide to the perfect Recipes Do support and subscribe to the channel. In this video I will share my favourite recipe because it is yummy and delicious! let me know in the comments how did you like it! Please Subscribe Our
============================================
dum biryani recipe
dum biryani recipe in urdu
dum biryani banane ka tarika
dum biryani restaurant
dum biryani lahore
dum biryani near me
dum biryani banane ka tarika
dum biryani at home
dum biryani and handi biryani
dum biryani dum biryani
dum biryani dubai
dum biryani description
dum biryani recipe in hindi
dum biryani recipe chicken
dum biryani review
Channel For More Videos: __/LINKS_
YOUTUBE: https://www.youtube.com/channel/UCu7I…
Facebook Page : https://www.facebook.com/mycityfoodse…
Twitter : https://twitter.com/FarooqZoobia
Tumblr : mycityfoodsecrets.tumblr.com
Blogger: https://mycityfoodsecrets.blogspot.com/