Read Time:
4 Minute, 2 Second
Chicken Popcorn Recipe In Urdu | Popcorn Chicken Recipe Fried | ZOOBIA FAROOQ – Zoobia Farooq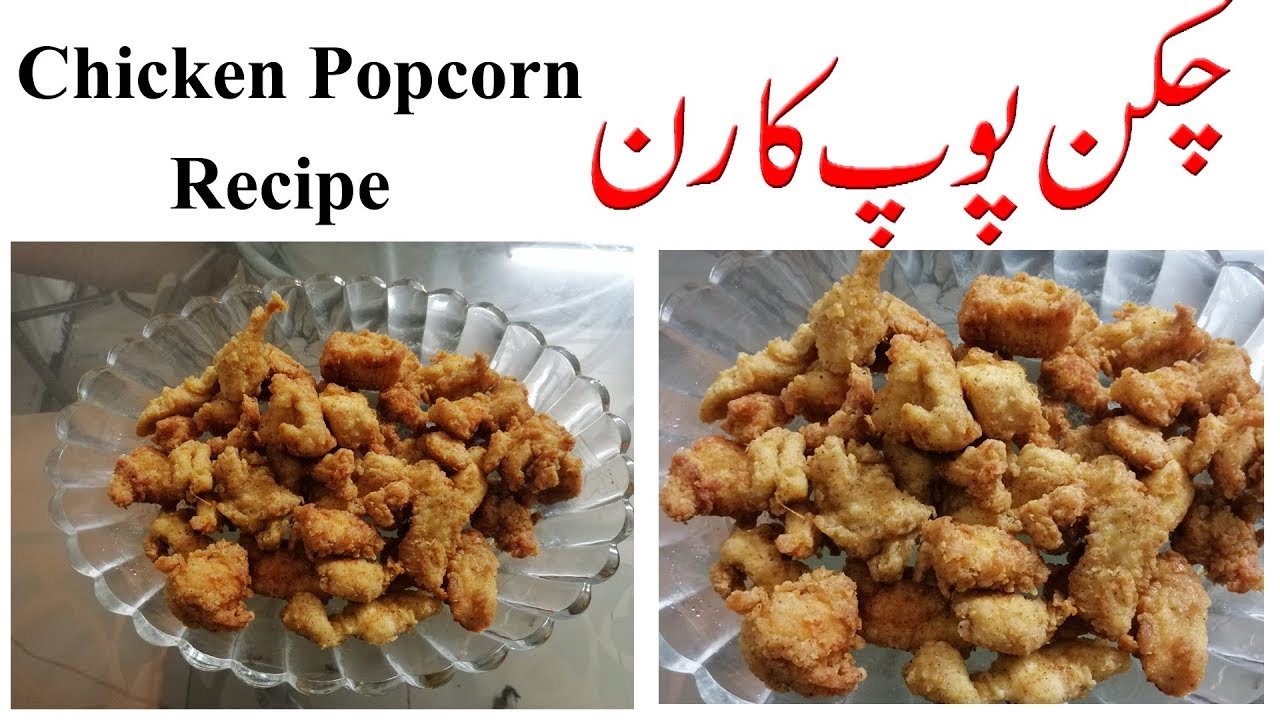 Satisfy your KFC popcorn chicken cravings sitting at home with these KFC Style Spicy Popcorn Chicken bites that are so close to the real thing and are healthier! Dip these little pieces of glory into Sriracha Mayo Dip and enjoy the loud crunch!. I think I've got you covered as far as irresistible fast food goes with this KFC Style Spicy Popcorn Chicken. So the thing is, I'm not a big KFC fan. Sorry KFC lovers. But their popcorn chicken I'm partial to. I know it's not healthy. And all the calories. After all it's just pieces of fried chicken. But there is something about them being bite sized and coated in a sweet spicy spice rub that I find so irresistible. This is one of those recipes that I get a little obsessive about. Because I need to get it just right before I share it here with all you discerning food lovers. We have a friendly trust thing going on and it means so much to me that we are food loving BFF's. So this KFC style popcorn chicken was made a total of 6 times before I decided it was good enough to be shared here.
INGREDIENTS
300 grams Chicken (Boneless)
(Oil for Frying)
for the marinade:
1 tablespoon Ginger Garlic (paste)
1 teaspoon Oregano (dried)
1 teaspoon Chili Powder (or Paprika Powder)
Salt to taste
for the coating:
3/4 cup Flour
1/2 cup Buttermilk
3/4 cup Panko (Breadcrumbs)
to taste Salt (and Pepper)
for the spice mix:
1/2 teaspoon Onion Powder
1/2 teaspoon Garlic Powder
1 1/2 teaspoons Kashmiri Chilli Powder (or Paprika Powder)
3/4 teaspoon Sugar (Powdered)
1/2 teaspoon Oregano (dried)
INSTRUCTIONS
Cut the boneless chicken into 1 inch bite sized pieces.
Mix together all the ingredients under marinade and rub all over the chicken. Marinate for at least half an hour.
Season the flour and panko breadcrumbs for coating with salt and pepper.
To start making popcorn chicken, arrange an assembly line of sorts. Place flour, buttermilk and breadcrumbs next to each other along with the chicken. Arrange a wire rack to place the chicken once crumb coated.
Now start by lightly coating the chicken with flour. Dip it in buttermilk next, and then coat with breadcrumbs. Repeat for each piece of chicken, and keep placing them on the wire rack.
Heat oil for frying and deep fry in batches on medium heat till the chicken is cooked through and lightly brown on the outside.
In the meanwhile, mix together all the ingredients under spice mix.
Dust the chicken pieces with the spice mix as soon as they are fried. This helps coat the mixture all over the chicken. I usually sprinkle the spicy mix and toss the chicken in it while it's still hot. Serve hot with some sriracha mayo dipping sauce or schezwan sauce.
My City Food Secrets is about tasty delicious food recipes that can be made easily at home and ideas on making delicious recipes with limited and available resources in kitchen.
Every recipe described in easiest way so that you can cook your food without any difficulties.
My recipe mainly from Pakistani cuisine and my delicious recipes from other cuisine
Here I share all type of recipes like Pakistani, Italian, South Pakistani,
North Pakistani, Chinese, restaurant style, Snacks, quick and easy recipe and
many more recipes in very easiest way.Check out these delicious recipes try them out yourself
and let me know how they come out for you.Here is your step by step guide to the perfect Recipes Do support and subscribe to the channel.In this video I will share my favourite recipe because it is yummy and delicious!
popcorn chicken recipe fried
popcorn chicken recipe for baby
popcorn chicken recipe flour
popcorn chicken recipe from scratch
healthier popcorn chicken recipe
chicken popcorn recipe in urdu
chicken popcorn recipe in hindi
popcorn chicken leftover recipe
lollicup popcorn chicken recipe
low carb popcorn chicken recipe
luke hines popcorn chicken recipe
curry leaf popcorn chicken recipe
chicken popcorn recipe hindi mai
popcorn chicken recipe without milk
popcorn chicken recipe this morning
popcorn chicken buttermilk recipe
mcdonald's popcorn chicken recipe
popcorn chicken recipe nz
chicken popcorn nuggets recipe
popcorn chicken nachos recipe
recipe of chicken popcorn of kfc
orange popcorn chicken recipe
organic popcorn chicken recipe
recipe of chicken popcorn
recipe of chicken popcorn in hindi
recipe of chicken popcorn in urdu
jamie oliver popcorn chicken recipe
popcorn chicken quickly recipe
quorn popcorn chicken recipe
let me know in the comments how did you like it!
Please Subscribe Our Channel For More Videos:
__/LINKS_
YOUTUBE:https://www.youtube.com/channel/UCu7I09DyUktc7R4Vj0vN5iw
Facebook Page : https://www.facebook.com/mycityfoodsecrets
Twitter : https://twitter.com/FarooqZoobia
Tumblr : mycityfoodsecrets.tumblr.com
Blogger: https://mycityfoodsecrets.blogspot.com/
================================================