Read Time:
3 Minute, 24 Second
Student Biryani Recipe Step By Step | Biryani Recipe | ZOOBIA FAROOQ – Zoobia Farooq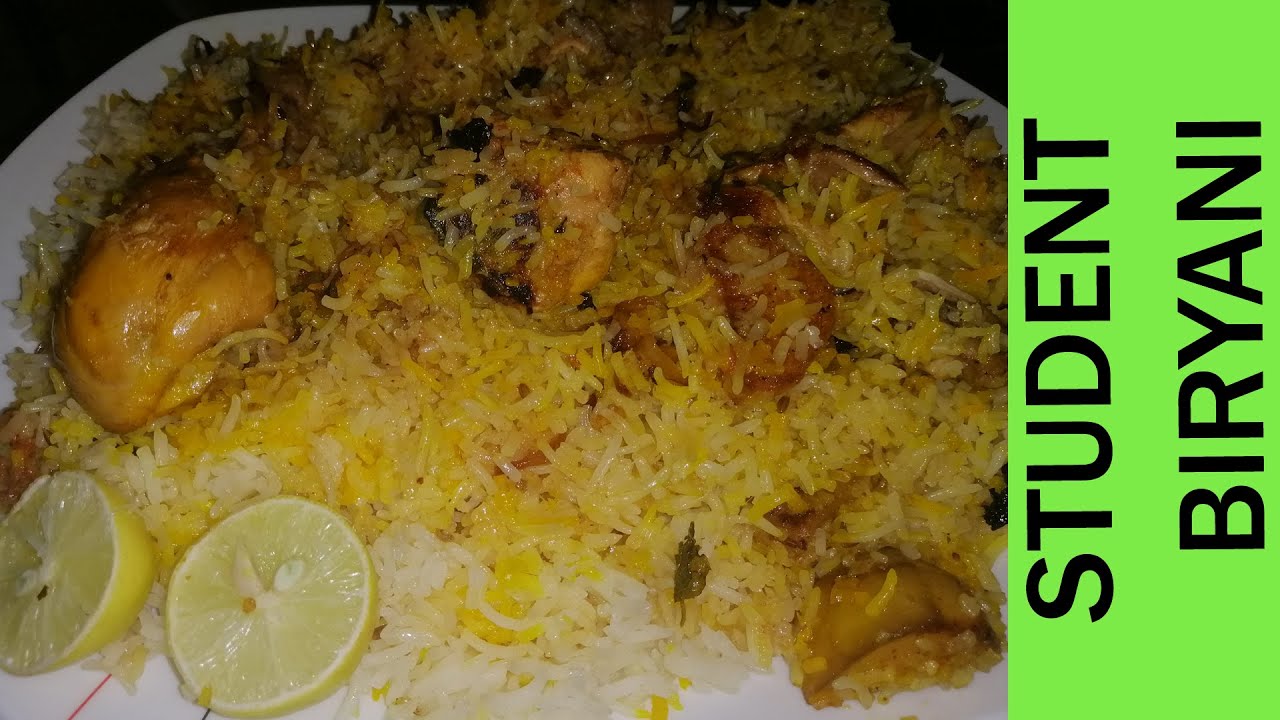 Chicken biryani recipe . We Pakistani ( Karachians ) love student biryani based on chicken .Student Biryani ( chicken Biryani ) is most popular and most visited restaurant in Pakistan. It is the best comfort plus you can say desi fast food chain and surely you will not get tired of this amazing dish. Even my son cannot resists it.
Student Biryani ( chicken Biryani ) is that recipe which is cooked perfectly with unique blend of spices . Loved by all food lovers in Pakistan , I tried to recreate the recipe in my kitchen , because it's difficult to find student biryani ( chicken biryani recipe ) everywhere. Although you can't beat the amazing aroma and taste of restaurant style student biryani. But still you can mark this recipe as 8/10 in flavor , look and aroma.Try this delicious copycat student biryani recipe.( chicken Biryani recipe ).
Ingredients:
Rice 1/2 Kg (Boiled)
Chicken 1/2 Kg
Potatoes 2 (Chopped)
Yogurt 1/2 Cup
Tomatoes 2 (Chopped)
Onion 1 (Chopped)
Oil 1 Cup
Mint 2 tbsp (Chopped)
Green Coriander 1 tbsp (Chopped)
Green Chilli 3 (Chopped)
Kewra Essence 1/4 tsp
Ginger Garlic Paste 1 tsp
Dried Plums 8
Garam Masala Powder 1/2 tsp
Coriander Powder 1 tbsp
Red Chilli Powder 1 tsp
Salt 2 tsp
Yellow Color 1/2 tsp
Direction:
Step 1: Take a pot and add 1 cup oil and preheat it and then add Potatoes and fry it on high flame until it's become into golden brown color. After that dish out it and also remove 1/2 Cup oil. Remaining Oil should be 1/2 Cup for making biryani.
Step 2: Now add Onion and fry it until it's become into golden brown color and then dish out it.
Step 3: Now your oil is clean and now add Ginger Garlic Paste and slightly fry it with stir and then add Chicken and fry it with stir until it's color Changed.
Step 4: After that add Tomatoes, Dried Plums, Salt, Coriander Powder, Red Chilli Powder and stir it and add 1/2 Cup water and then cover it with lid and cook for 10 minutes on medium flame.
Step 5: After that remove lid and stir it and then add fried Potatoes, Yogurt, Garam Masala Powder and stir it for 5 minutes on high flame. After that add Green Chilli, Fried Onion, Green Coriander, Mint and now use low flame and add boiled rice and then take yellow color and add some water and mix it and put it into rice and add Kewra Essence and then cover with lid and cook for 15 minutes on very low flame. After that Your Chicken Student Biryani is Ready.
My recipe mainly from Pakistani cuisine and my delicious recipes from other cuisine
Here I share all type of recipes like Pakistani, Italian, South Pakistani,
North Pakistani, Chinese, restaurant style, Snacks, quick and easy recipe and
many more recipes in very easiest way.
Check out these delicious recipes try them out yourself
and let me know how they come out for you.
Here is your step by step guide to the perfect Recipes
Do support and subscribe to the channel.
In this video I will share my favourite recipe because it is yummy and delicious!
student biryani recipe video
student biryani recipe step by step
student chicken biryani recipe
student biryani karachi recipe in urdu
student chicken biryani recipe in urdu
student biryani recipe in urdu restaurant
student biryani recipe by zoobia farooq
student biryani recipe
student biryani recipe in urdu
student biryani karachi recipe
pakistani student biryani recipe
easy student biryani recipe
student biryani
student biryani karachi
how to make student biryani
student biryani banane ka tarika
student biryani dubai, karachi
student biryani recipe in urdu
student biryani pakistan
karachi student biryani
student biryani karachi
homemade student biryani
how to make student biryani at home
biryani dish
chicken biryani banane by zoobia
how to chicken biryani
how to cook chicken biryani
how to make chicken biryani
let me know in the comments how did you like it!
Please Subscribe Our Channel For More Videos:
__/LINKS_
YOUTUBE:https://www.youtube.com/channel/UCu7I09DyUktc7R4Vj0vN5iw
Facebook Page : https://www.facebook.com/mycityfoodsecrets
Twitter : https://twitter.com/FarooqZoobia
Tumblr : mycityfoodsecrets.tumblr.com
Blogger: https://mycityfoodsecrets.blogspot.com/
===========================================